If you're looking to hire Cleaning Service for your residential property, there are a few things that you should look for in a company. These factors include the service's price range, availability, and reputation. This way, you can find a professional who meets your needs without breaking the bank.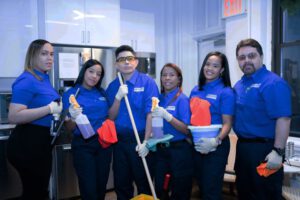 The price range of a cleaning service depends on several factors, including the square footage of the home and the type of cleaning. Cleaning services that clean large houses are generally more expensive than those that clean small ones. Hourly rates are suitable for small homes, while fixed rates are more suitable for large ones. Large homes often require a team of people to clean them properly.
Cleaning rates are also influenced by the cost of living in the region. For example, cleaning rates are high in metropolitan areas, while the cost of living is lower in rural areas. Therefore, pricing your cleaning service according to the demand in your area is very important. However, it is important to keep in mind that you cannot charge higher than what your potential clients are willing to pay.
Cleaning supplies are an additional expense that can add to the cost of the job. For instance, eco-friendly cleaning products are costly. Additional charges may also include extra services like using cleaning supplies that you have at home. To get an accurate price estimate, ask questions and ask the cleaning company for a walk-through of your house.
A typical flat fee can range from $100 to $170 per week for a single-family home. Additional services, such as duct cleaning, window cleaning, and appliance cleaning, can also be added to the flat fee. These additional fees can run anywhere from $50 to $300 per cleaning session. Cleaning services can also charge extra for special tasks such as cleaning up pet hair.
House cleaning costs vary greatly, but the national average is around $150 per house. This range is based on the size of the house. A small house will cost less than $100, while a large home can cost upwards of $300. Cleaning services usually do an initial inspection before estimating a price, but most can estimate the cost based on the size of the house.
Reviews of cleaning services are a vital part of digital marketing strategies for cleaning businesses. Customers are always looking for quality cleaning services, and competition in this industry is high. A growing review index will improve local search rankings. It is also beneficial for reputation management as online reviews give customers a platform to express their satisfaction or dissatisfaction with a service. Online reviews also allow business owners to learn from negative reviews.
One of the most common problems with reviews is fake or misleading information. Some companies will pay people to write a positive review about their services and then tell them what details to include. These fake reviews are difficult to rely on and, in many cases, contain false information. Fortunately, there are ways to identify fake reviews.
While it is helpful to read reviews of cleaning services from people who've hired the service, don't just read them at face value. It's important to keep in mind that reviews can be highly emotional, and the responses can be very disparate. You should look for a balance of praise and criticism.
Reputation management for your cleaning service is a crucial aspect of succeeding in your business. You need to respond to any negative reviews in a timely manner. Having many positive reviews is a great way to increase your visibility in the marketplace. Getting reviews from past customers is an important aspect of reputation management. It will also serve as social proof to potential customers. After all, nobody wants to work with a company that has a poor reputation.
A good reputation management software can help you send follow-up emails to past clients. Not only does this improve your overall reputation, but it also automates the review request process. You can set up a specific email series to request reviews from clients after each cleaning service. You can also manually add new clients once they have used your service.
Online reviews can help your business rank higher in local search results and help increase your reputation. Moreover, reviews can include photos. People will be encouraged to give reviews if they have a good experience with your service. As a result, it is important to build a good reputation online. As a local business, your goal is to have a high number of positive reviews online.